In some ways, mindfulness practice happens in phases, not in a linear way, but in a circular, organic fashion, and understanding the nature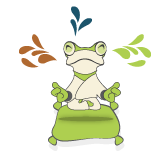 of each phase can be useful in deepening and sustaining this practice of ours. And so, I decided to write this little guide to help you to better grasp the process in which we find ourselves.
Lost In The Mindstream:
Also known as 'normal', in this phase, thoughts are in such control that we don't even notice them. Every thought is believed and we are so lost that we see the thought stream as 'my opinion'.
Noticing The Noise:
Take a mindful breath or two and you will quickly notice just how much noise your mind creates all day long. This seems like a step backwards for many people, but in fact becoming aware of the noise is the first step in becoming free of it, so congratulations!
Finding Some Peace:
If you keep at this practice, you will start to notice some space between thoughts, some silence in which there is just awareness, space and peace. And how wonderful it is to experience this after so long lost in words! Many people, after experiencing this space, try to rediscover it after the mindstream has returned, or rather the mind comes back and starts chasing that peaceful experience. This leads to stress, of course, so don't let your mind drag you around chasing peace! Peace can't be caught, it is here already when you allow yourself to settle, without chasing anything.
Peace Becomes Normal:
Looking from awareness becomes your normal state, your way of experiencing the world, and so, when thought takes over again, the difference is instantly obvious. In this phase you may still dip in and out of the previous three, but deep down you know that it is temporary.
Then what?
This mindful life, of course, is not linear and straightforward, and we all move in and out of each of these phases, sometimes gradually, sometimes rapidly as we continue to give attention to this practice.
But as you move through this process, some old beliefs will dissolve as new understandings arise, and in part 2 of this article, I will discuss these in depth and explain how these shifts in understanding will change your life forever.
Thank you always,
Oli